Victor Julien-Laferrière in recital at the Fondation Louis Vuitton and in Concerto with the Orchestre National de France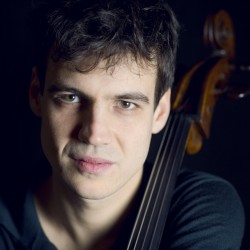 On November 29, Victor will perform at La Fondation Louis Vuitton with his accomplice Jonas Vitaud. They both chose the Auditorium to celebrate the release of their new all-Russian album with the label Alpha Classics! (concert recorded on Mezzo). They will play the Rachmaninov and Shostakovich's famous sonatas. And an unknown piece of the russian composer Edisson Denisov will complete these two masterpieces : the Variations on a theme of Schubert, written in 1986.
Victor will then join the Orchestre National de France on December 5 to perform an emblematic piece of the cello repertoire : Dvorak's cello Concert (cond. Emmanuel Krivine). Don't miss it!
Publié le 22 November 2019