Xavier Phillips performs Offenbach in Paris (Salle Gaveau)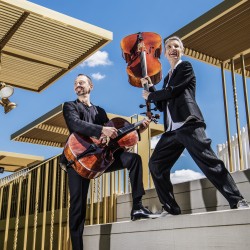 Sometimes we forget that the future composer of La Vie Parisienne and Orphée aux Enfers was an amazing virtuoso of an instrument he had studied in Germany. Nicknamed the "Liszt cello", Offenbach, during his early years in Paris, was famous in the salons and participated in the orchestras of several theaters in the capital, including the Opera-Comique… irreplaceable observation post!
It's been between 1839 and 1855 that was published his methodical Course of duets for two cellos, divided into 6 volumes (opp.49 to 54) of increasing difficulty, from the letter A to the letter F.
By performing six of these Duets, the cellists Xavier Phillips and Anne Gastinel invite us to a real sound feast: these pages are entertaining as much by their parodic evocations, as they are moved by their depth and their natural beauty.
Publié le 22 November 2019